BREAKFAST. Whoa, where have you been all these years?
I've never been a breakfast lover. The only times in my life I consistently ate it was during my 4 pregnancies. When I do eat breakfast, it is never your typical breakfast foods. My favorite things in the morning are a super simple miso soup and steamed veggies with some oatmeal, or scrambled tofu with veggies.
So, for the past 10 days, I have been challenging myself to drink less coffee, and focus on eating in the morning. The results have been amazing!
I've lost 5 pounds, gained a ton of energy, and kicked my reliance on coffee to the curb. I was drinking too much of it, and eating too little. I will probably always love coffee, but no longer at the expense of my
nutrition.
Scrambled tofu is one of my favorite breakfasts, and is SO versatile. You can add any ingredients you like to scrambled tofu, there are no rules here!
Scrambled Tofu


1/2 block of extra firm tofu
1/2 a onion, cut into half moons
1 clove garlic, minced
1/4 cup of red pepper diced
1 cup of chopped kale leaves
1/4 cup of sweet corn kernals
1/2 tsp curry powder or 1/8 tsp tumeric
2 tbsp olive oil
sea salt & black pepper to taste
Heat skillet on medium heat, add olive oil, onion, garlic, and red pepper. Saute about 5 minutes or until veggies become tender. Crumble tofu and add to skillet along with the curry powder. Stir well, and add kale and corn. Cook another 5 minutes or until kale is tender. Season with salt & pepper and serve with avocado slices.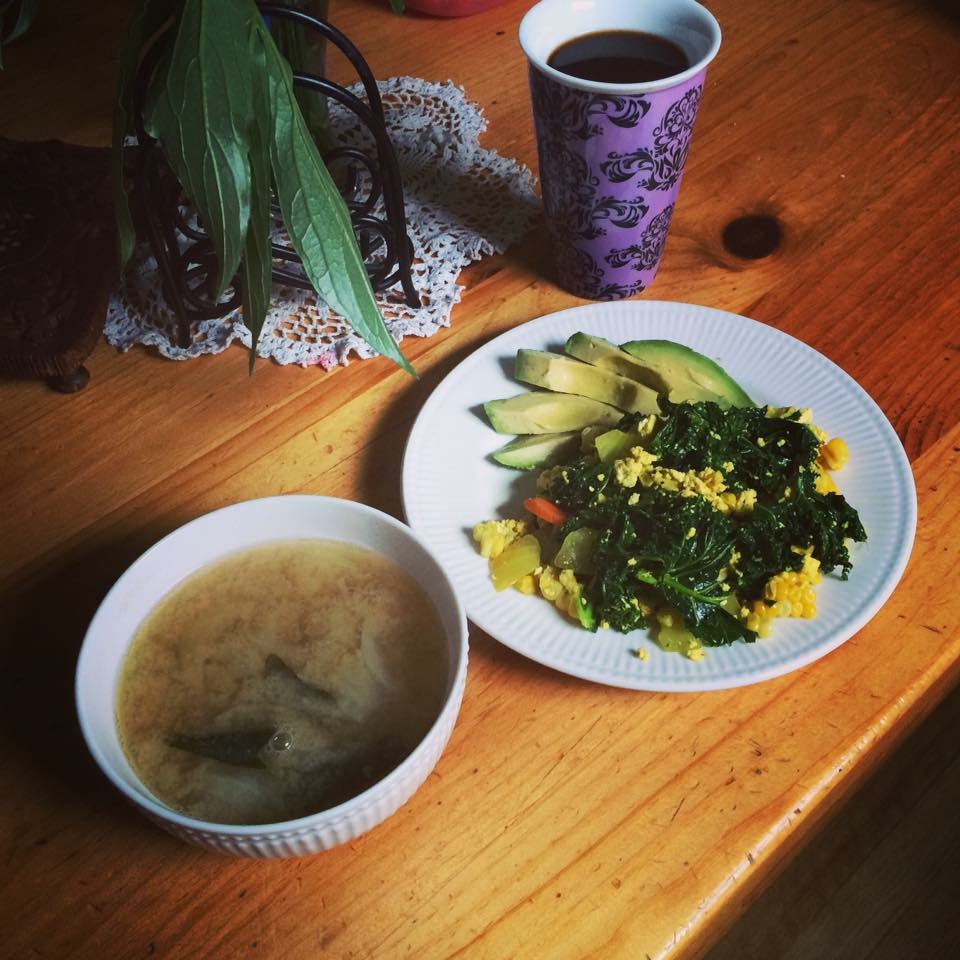 I hope you try this, it is SO good.
How do you cultivate healthy habits each day? Leave a comment below and tell me your favorite breakfast ideas!